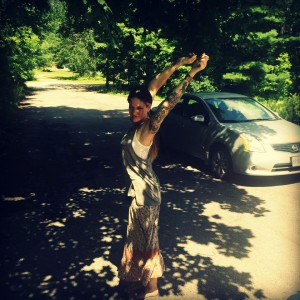 It's my anniversary today.
A year and a day ago I started this website.
This is my 151st post. And I am still rambling about nothing/everything.
Conversations with the soldier yesterday, I said it was okay that I got raped.
He got his back waaaaaaaaaay up and his arms around me in a perfect circle.
"No it isn't" he whispered. Who knew a whisper could sound so strong?
"Aye, tis. And I will tell you why. I was raped so I could learn how to conquer and get past it. So I could say those words out loud and help other people survive it."
Everything I ever did got me here. I regret nothing.
It's funny to have Facebook and now this discombobulated diary out floating in the vast ocean of the internet.
Karma markers everywhere.
Facebook means well with the 'hey do you want to see your memories?'
I want them all.
7 years ago I was ruined.
6 years ago my body was tossed around the inside of my jeep and my bones matched my mind. Broken.
5 years ago I saw a light and had no idea what to do with it.
3 years ago my witchy mama came to rescue me.
2 years ago I went to the ocean and decided to change my life.
Last year I let my heart live on my sleeve and there she sits. Safe as houses.
Fairy tales and parables about the monsters I let into my bed.
So many monsters come and gone teaching me things, being taught by me.
And my one worry was 'who in god's green anywhere is going to love me like this?'
Messy guts spilled like an oil slick on the ocean of the internet.
The answer is 2. Maybe more.
12.13.14 I let go of the boy I loved my whole life. He messaged me today, "I cannot quit you" he says, so let's make that 3.
The more me I become me the more I am astounded by the 'shit guys say to me'.
(Not just men, women too.)
I started a biweekly posting to Facebook.
Sometimes it's bad, I do work in a strip club after all.
But sometimes it is better than I could ever imagine.
I told soldier my dirtiest secret yesterday (one I hadn't even told The Poet and he knew errrrting) and he didn't flinch. He just said its part of who and what you are. Said he would love me forever and would never want me to change.
Another one who adores me from afar somehow conjured everything I ever wanted to hear into a message and I just stared at my laptop in awe. He spelled out a life based around a profound understanding of who I am and what I need. Including the words "go tend to your soldier, I am not going anywhere." This is what bliss feels like.
They have both read everything I have written to date and learned me. I cannot describe how amazing this feels. To be really seen and adored for it.
Not just by them, by so many people. I really did find my tribe and the language they speak is like music to me.
I have come home to myself in this tiny house.
I have a renewed idea of what sanctuary means…what an honor it is that someone else sees me that way.
Mind you, I am Gypsy and will always wander.
I will never be done soul searching.
I hid from the world and myself for so long. I buried all the things out of misplaced shame…and when I finally dug them up I realized they were diamonds.