https://www.youtube.com/watch?v=1yOifFvYW2o
Been revisiting Eddie Vedder's voice.
First thing to hit my ears this morning, except the ocean, the whirring of the ceiling fan and the binging of the elevator to let me know the power came back on.
Lost power.
Got it back.
So it is in the condo, so has always been my state of being.
I went down a weird YouTube rabbithole yesterday, all Viking chants, words I didn't know but they sounded familiar and lovely. As did most of the music.
I get stuck in ruts and then I find new things, then I run back to the old.
It is my way.
I remember being 13, going outside for recess and one of the girls I kinda hung out with exclaiming "Kim found a new song", so we all gathered around a tape deck and listened. It was Dock of the Bay, Otis Redding. So far off from the usual pop stuff we'd listen to. I shouldn't say I gathered, I stood off to the side, I was not welcome in that group per say, but it didn't stop the music from reaching my ears, and I really liked it. I still share music with a boy I went to said public school with, oh the joys of MP3's, YouTube and Facebook.
I still get a similar rush from finding new songs.
The night of the secret wedding, I heard Fleet Foxes, Kept Woman on the radio, scribbled "bound to be reconciled" on the back of my hand driving in the dark. All my playlists can be attributed to one random moment in time where I heard something new and I just followed the suggestions after and pulled out what sounded good and kept it safe on a list. Then played those on repeat until the next thing happens.
Fleet Foxes begat Ben Howard.
Promise.
And maybe, just maybe I'll come home
https://www.youtube.com/watch?v=CVUOTzoVeZA
Copying and pasting lyrics doesn't do much. 7 words that mean everything to me. It's all in the cadence and how it relates to where I am in this moment.
And here is our segway.
I feel homeless.
For the record, I am not. I have a beautiful space that I pay a nice man to stay in and keep my stuff in. There's a fireplace and bookshelves and my bed. Everyone thinks it's beautiful and so do I. I made it that way. I always do. Home is literally wherever I lay my hats. For someone who rarely wears hats, I have a lot of the things.
I have a lot of things.
I keep thinking I am paring down, and I have, probably 50% since the move and 50% before that between Milton and Hamilton. More went out than went into the new house. Then I bought more shit and I have a blank space on two walls just waiting for the perfect things, I haven't found them yet.
But, unlike other spaces I have occupied I have a feeling finding those 2 perfect things won't satisfy me in the way I am accustomed to.
Once upon a time I left the farm for the last time. It was easy, all my shit was jammed into one beautiful room. MINE> MY THINGS< KEEP OUT.
Shit got left behind at the farm, a chair got smashed in anger and I mourned it.
Put everything remaining in a storage space that I visited 4 or 5 times in 5 years until that was empty and the 'essentials' in my jeep (now with a brand new steering column) and drove away into my future.
Which just so happened to be living with a dangerous, creep of a man for a few months until I got to live in a trailer and work on site at a lodge up north.
My bedroom had no lock, but it did hold all my most precious things. It was lovely, especially when creepazoid was away. Often, thankfully.
My room in the trailer was magnificent, super proud of that one. Look…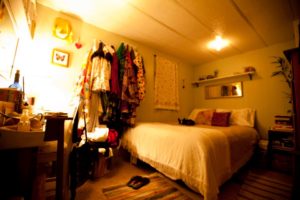 Then I was ousted from there too. Didn't feel settled till I was alone in Milton, years later.
Even then, it felt too big, too much. I have long been confined (by choice and circumstance) to one room. 4 walls and a door containing my stash of what I consider treasure. I don't like spreading out.
I used to have a cubby in my closet when I was a kid, small spaces suit me.
I have often been separated from my things, forcibly removed from where I called home, and made (beautiful) do with what I had with me. Notably, once in Toronto while all my shit was held hostage at the farm, and once at a cathouse above a strip club.
Again, just a trunkful of my shit and I managed to make hell into a home. Put up curtains, made my bed beautiful with vintage linens, laptop and my most favorite clothes. Burn some sage and I'm home.
When I knew I was going to leave Milton I bought a 27 foot tow-behind trailer that I intended to gut and turn into a home on wheels. Circumstances dictated the project never happened. Gift of the Magi situation wherein the vehicle I had needed an upgrade package to tow the thing which equaled the amount needed to renovate it and live for a bit. Then my son got sick and I abandoned the idea and he came home.
I am wanderlusty again, even though I should be settling into the new place.
I bought a HUGE suitcase to go east. Didn't pack all that great and ended up having to buy warmer things. But a little lightbulb came on and memories of random temporary places to stay started tickling my brain, along with this giant suitcase.
When I packed for away again I decided to see how many of my favorite things I could fit. I have enough clothes to not wear the same thing for a month, and with the exception of a few dresses trapped in storage, all of my favorite things.
I have a holdover mindset from childhood about my 'good' clothes, like I have to wait for something special to wear them and try not to get them dirty. One of the ways I still play small. it isn't serving me at all.
What if I had 2 such suitcases, how long could I fly for? Forever?
I have long missed my Jeeps, I could literally live out of the back of them. Like really, I have done and I'm getting to the point where I could do it again.
I kinda want to.
Blackbird fly, into the light of the dark black night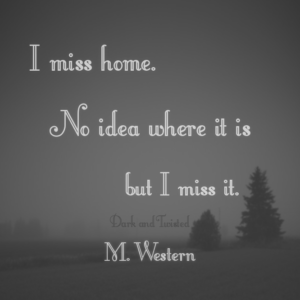 https://www.facebook.com/dark.and.twisted1/photos/a.229455077198024.1073741825.215084005301798/1237733096370212/?type=3&theater