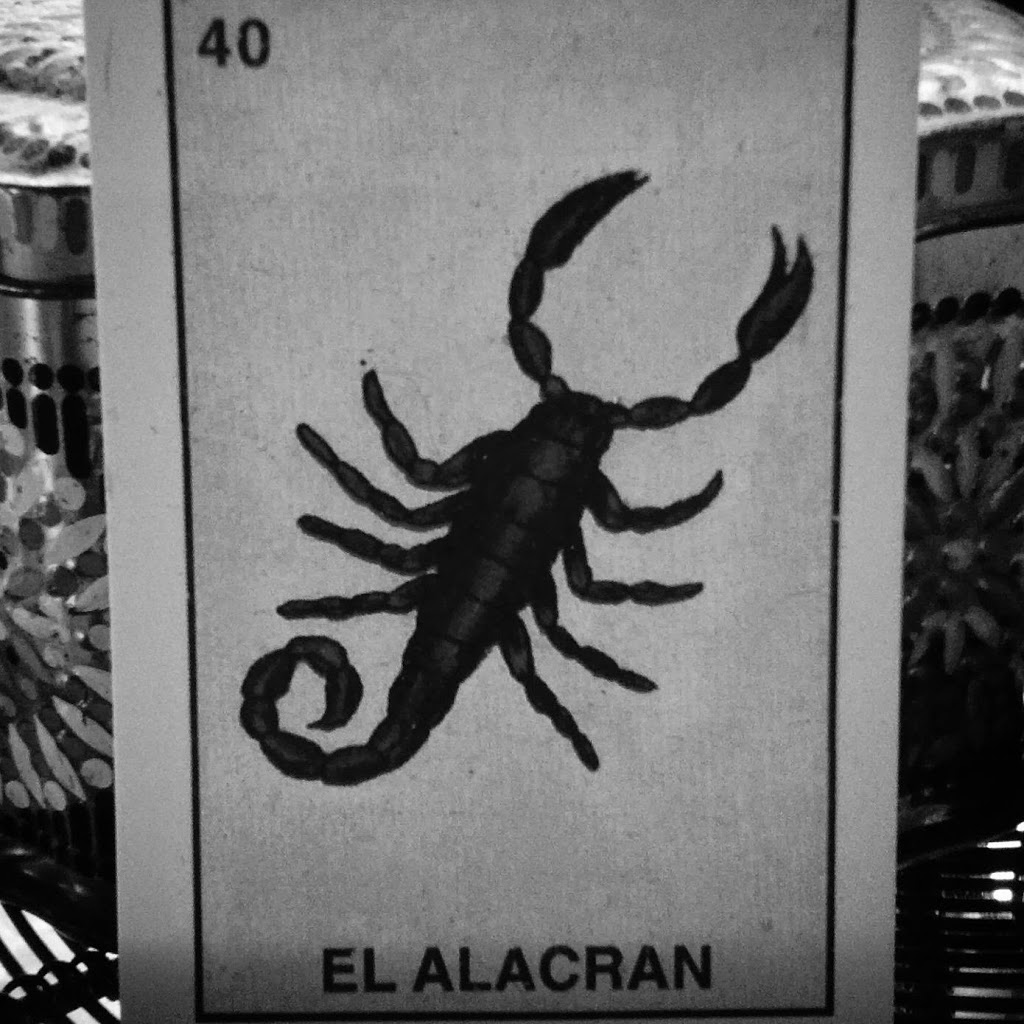 I say Scorpio and most people either think or say "ew".
Except the Scorpios, they say "I am awesome" in whatever alien language it is they speak.
The chosen few of us who have a hand forged decoder ring just sigh a contented knowing sigh because we know what bliss is.
I spent the better part of my morning on Facebook chat talking a girl out of bed. She loves a Scorpio. She fucked up.
When you fuck up with a Scorpio it feels like the end of the world. Because it is. For now. Everything is temporary, but that is a story for another day.
I have done lots of drugs, but as I mellow in my 40's, I will take romantic feelings for a Scorpio hands down bet it all on black and let it ride. A Scorpio will get you somewhere over the rainbow high, and you will crash.
This ain't no come here go away Libra, or a Leo all about the chase, or a Gemini who doesn't know if he wants to be inside or outside or inside or outside.
If you are young and insecure and have never really had a real relationship before, run screaming darling, run now, pull your panties up and run. I know he does that thing with his tongue, but seriously.
Run.
I was 19, he was a Scorpio. Somehow, without being in any semblance of a relationship he became my baby daddy and it took us 18 years almost to the day to be able to be in the same room. It went as bad as it could go before it got better.
I was 36 he was a 27 and a Scorpio. I hurt him. It took us 4 years to get over it and I swallowed pride I didn't know I had to get there.
I was 40, he was 24 and a Scorpio, he shredded me. This was months ago. I don't want resolution, the ego boost was enough.
This is the amount of patience and letting go required.
Rollercoaster in the dark, a fairly apt description. If you want normal, or need security. Nay nay. It ain't here. If you want to be a blissed out puppet at the mercy of a beautiful demon with mild Parkinson's, then c'mon in.
Here is what your half of the conversation will end up sounding like, both internal and external dialog (until you figure out what you are doing)
"Why aren't you paying attention to me?
Why are you paying so much attention to me? Do you need attention?
Oh my god this is the best attention ever
That is not what you said yesterday, wait, did you even talk to me yesterday?
Oh my god that was the best orgasm ever
Did you think maybe I would like to read the book myself before you tell me everything about it
Seriously when was the last time you said two words to me
Of course I want that in my mouth, I always want that in my mouth, get over here
I swear to god that is what you said yesterday, I spent yesterday crying about it and you wouldn't talk to me
Oh my god how do you do that thing with your tongue, what was I saying
Why aren't you talking to me, am I talking to myself, I think I am talking to myself
Holy shit you can't talk to me like that
Oh my god I love it when you talk to me like that"
And so it goes…learn to ask direct questions and make sure he knows that there is no wrong answer.
So how do you handle it?
You don't.
This is not something to be handled or conquered or tamed or even mapped out.
What is the proverbial carrot?
Best sex ever. The desert doesn't get hotter and the ocean doesn't get wetter than this.
Their compliments, although rarely given, are custom built out of truth to make you melt and you can stitch a quilt out of them to keep you warm when he is away. He will be away.
The satisfaction of building love with your bare hands in a hurricane uphill both ways.
This is not a love you fall into and simply maintain. Every brick is a kind word, a nod of understanding, a held tongue, a held hand, trust, understanding, acceptance, calm when you want to scream, giving when you have nothing left and you don't know when you will get more. Without warning walls get torn down and remade overnight, or sometimes over years.
Roll with it or go find a Taurus, I hear they are nice.
You get access to a spectacular alien twisted amazing mind that will show you wonderful and terrifying things and open you up to a whole new world. Oh he is going to open you up, and you are going to let him, welcomed evisceration. This is concentrated passion in its purest most potent form. I warn you, it's addictive.
You will find within yourself strength, grace and patience you had no idea was humanly possible, and that is yours to keep, forever.
Why do this?
Same reason people trek through the jungle or climb Everest or jump out of perfectly good airplanes. It's an adventure.
How do you do this?
Love yourself first. He cannot be your everything and you will not be his.
Love all of him. There is no room for conditions here. He is perfect as is. And if you don't think he is, then leave, someone else will find him perfect.
Love being alone, they love being alone. Ever try being in the same room with a Scorpio that doesn't want to be there? Their discomfort is palpable, like a giant rotting elephant in the room, and if you are the reason for it, take your elephant and go.
You can see him tomorrow or next week. Bask in the glory that he made an effort.
Love them enough to let them out in the world. Love them in a way that they feel free. Know all the way to your core that they won't find anyone 'better' than you because you are safe warm and you know them, accept them and love them.
Make a distinction and a decision that sex is not love. It's going to feel like love, but it's not. You will know when he loves you, trust.
You can be his favorite but not his only. It's like making a horse walk backwards to demand exclusivity, it can be done, but it pains me to watch. It's not natural.
The words "I love you". Say them if you mean it. Don't ever expect to hear it. But if you do, a choir of angels will sound like nails on a chalkboard by comparison. There is nothing sweeter than love earned.
Realize their backs are scarred with the hurts done to them long before you got there and the only thing that will make them fade is time and patience and not ripping the scars open by pulling the same shit. They will tell you what not to do if you listen. So don't do it. They are not good at setting baggage down, just help them carry it. It's going to be alright.
If a Scorpio opens the door to the inner sanctum drop everything and walk through it, seriously run, get in there, and for the love of god don't make a mess.
Author's note.
This advice goes for everyone ever regardless of zodiac, gender, age et al, be kind be respectful and don't make a mess by being one. Love yourself before you decide to love someone else.