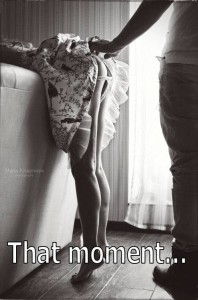 I did not chose the name of this blog lightly. Operative words being 'Lust' and 'Grace'.
The Grace is a bit of a joke. I am Tuesday's child, but I Lord do I stumble, fumble and fall.
I rarely get things right the first time. This is why I write.
I write to remember, examine and learn; in that order. I edit less than I used to, but I still edit. I am human. The grace comes when I see what I did, glean what needs to be gleaned, make amends and never repeat. My mistakes are not made from a malicious place, I am just clumsy and full of love. Second chances are given, welcomed and never squandered.
The Lust. I am a sexual creature. I love my body and the things it is capable of. I love the crashing of waves attained during orgasm that drown everything out. Sex is my Zen, my center, my core.
I am writing this post with a bag of frozen peas stuck between my legs and a kink in my neck from getting fucked upside down. Yes you read that right. Buff boy this one, made me feel downright petite. I crave this. I rolled in last night with my panties in my purse. Softest ones I own and still… just… no.
My throat hurts too.
There is a reason I call my lover's my monsters. I like a little danger. Being conquered, submitting.
Oh, um heads up, as of June 12th I started writing porn, for fun and profit. Turns out I am pretty good at it. We are going to get spillover kids, my walls are not high enough to keep things separate. I don't really have walls. Maybe a bubble, but like a soap bubble, not a bubble boy bubble. I'm a permeable membrane.
If I had to compare this one to say, matryoshka, those Russian nesting dolls, he is the one all the others fit inside of, the big one.
I showed a pic of him to my girlfriend. We will be best friends forever because the ones I find yummy she throws back and vice versa, but this one? This one she likes. I knew she would.
She and I were sitting at a chain restaurant that shall not be named because they got everything wrong and it's the only thing open past 10 on a school night 'round here. I must have said fuck 20 times in as many minutes, and not as an expletive I meant it as the verb it should be, as in carnal.
She and I do NOT have the same taste in men. AT ALL. But this one, when I was telling my tales, her eyes were lighting up with recognition. The glory of grabbing fistfuls of sheets trying to crawl away just to get pulled back in. Seeing that wicked grin on his face….noms.
It should go without saying that when I say I am sore I am celebrating, not complaining (did you catch that? I know you are reading this). Good hurt. This is the wildling wolf-boy I wrote about in Seeing Red. I wasn't wrong. We ate each other all up.
Found myself getting wet out of lust, trust and a little bit of self-defence (a lot of self-defence), leaning into him and the pain. Seeing how much my body can take, moving my body this way or that to alter the feeling, matching momentum. I don't have bad sex, I can either work with it or I can't. He wasn't work at all. Absolutely Compatible. I want more.
We retired to the living room in between to catch our breath, smoke and watch Ridiculousness. Happy, sated belly laughs about turtle moans and pain groans while eating noodles. He looked at me that way again and touched me in the places he'd claimed as his. I pulled him back to bed by his belt.
My girl says"…if you aren't a little scared it's not worth it. Like an amusement park without the lines." If the table hadn't been so wide I would have jumped across to kiss her, instead I squealed and wrote down what she said, it's my truth too.