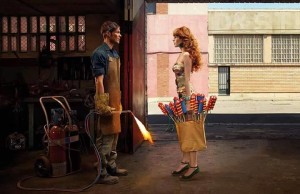 Windows 10 tricked me into updating and this article I was working on for a few days now got stripped back to the bare bones. Art is imitating life again. Or mayhap dictating it. The latter sounds correct.
I did the thing I try so hard not to do, I let the past colour the present.
I built it, he came.
I forgot the next message from the Field of Dreams voice. Go the distance. I was too busy holding my ground.
Insanity is doing the same thing over and over and expecting different results.
Einstein
At some point I will stop.
Self-preservation will kick in. But not today. Definitely not tomorrow either. Maybe next Tuesday.
My D.J said, as I walked off stage eyes already shimmering with salt water,
"Sweetheart, I have never seen you this messed up over a boy before."
In all fairness Mr. Brightside had played and I got a bad loop in my head.
Now they're going to bed and my stomach is sick and it's all in my head but she's touching his chest now, he takes off her dress now let me go
(I don't want to let go.)
I feel like a newborn, kicking and screaming.
Filter
When you were here before,
I couldn't look you in the eye,
You're just like and angel,
Your skin makes me cry.
Radiohead
Fuck, everything is making me cry, song lyrics like painful slivers of truth working their way to the surface.
I listed what I liked about the Giant. Took me a good part of 5 minutes but still.
"Me neither honey, especially not this fast."
I searched through the filing cabinet labeled "experience" in my mind for anything similar in hopes of reminding myself how to deal.
Quickly, something familiar.
The Tragically Hip
I have been re-reading the blog. Because I know the Giant is.
I tried to hide it from him, I know I look a mess. Always going back and forth about what I am and what I want. I post epiphanies in real time. Stumbling and fumbling and clumsy as fuck.
I wrote in Lost and Found Boys that I wasn't getting what I wanted because I didn't know what that was.
He was already standing right in front of me, and he was HUGE…how did I miss it?
I was looking back at the old. I let the past taint the present.
I stuck to the covenant of the cougar, I felt like a whim and made him feel that way too.
11:11 A Wish for My Pet Monster.
Oh shit.
I wished for him.
He was my Christmas gift from the Gods.
Things I held sacred that I dropped.
Audioslave
I didn't treat him as sacred, I rearranged the consonants and was scared instead.
He was the culmination of them all walking around in one beautiful body.
Magic and mysticism of Gelfling.
Passion and playfulness of Wolflng.
Acceptance and adultiness of Sunday.
Chivalry and compassion like The Hulk.
Ease of conversations and dirty, nerdy compatibility of Drogo.
The eagerness to explore my experiences and make new ones like Home.
Youth and beauty like Young Un.
Musings and motivation to write that trump the Poet.
Unlike all of them, he was corporeal and communicative on a level that suited me perfectly.
Add to that the massive musical compatibility and the slightest touch making purple lightning under my skin.
Sex like fireworks and thunderstorms.
And he looked at me like I was magic.
I called him Nephilim behind his back. Been looking for one of those ever since Sara said the word Fallen. Rare as rainstorms in February and hurricanes named after us, but it happened. Should have said it to his face but I held my tongue.
I wrote in Parallel Paradigms regarding these new ones I meet "We are building foundations for worlds that haven't happened yet. The stardust coursing through my veins is magnetically compelled to pull them in. Touch them, learn them, exchange energies so when we meet again we will know each other."
Unlike the others we have built a solid foundation in this world, it just isn't time yet. Fear has been replaced with familiarity.
He saw this and asked about it, lyrics framed and on my wall.
So shed your skin and let's get started.
Hunters & Collectors
Fresh start it is.