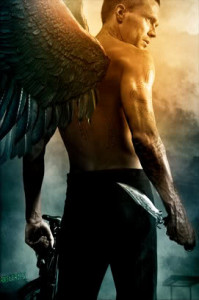 It should be abundantly clear by now that I don't attend church.
I make my own days of worship and ritual.
Wednesdays. Mercurial, as am I. Perfectly quick-silvery day to celebrate, communicate and commune with my tricksy Gods of yore. Have my voice heard and rejoice. Lord hear our prayer. "Edie gave me this telephone, she says I can talk to God." (Crispin Glover, The Doors)
Thursdays, I still reverently sit and listen to the sermons of Rob Brezny' Freewill Astrology delivered as horoscopes.
Interpret the words of God, bend them to my will.
Fridays, ruled by Venus. 17 years ago I lived with my 2 weird sisters (the maiden and the crone). We dubbed Friday *Love Day*. If you could call 'bumping into' that boy, peeling him off the bar, pouring him into a cab then bumping into him, less dressed, in his twin bed "lucky" or "love". T'was neither.
That was a million years ago.
Not ready to wander back there. But here we go…
Two days ago I played pinball with the Archangel Gabriel.
Luke 1:26-30 And the angel Gabriel came in unto her, and said, Hail, thou that art highly favoured, the Lord is with thee: blessed art thou among women.
And when she saw him, she was troubled at his saying, and cast in her mind what manner of salutation this should be.
And the angel said unto her, "Fear not for thou hast found favour with God."
I feared anyways, I was a scared little thing back then.
Years later I saw the movie 'Legion', and realized who he was. They even look alike.
The ecstasy of perfect recognition (Stephen King)
I was a known squanderer of blessing and messages. I left him and hurt him, this angel. Traded him in for a foot in the ass at 4 am, scrounging for my clothes in the dark, one-handed as I had a fist jammed in my mouth to keep from crying until I reached the door. That 4 block walk home, tranny hookers clucking their tongues in pity…every Friday for a year. Save a few when I was saved, but I always found my way back to hell. I had a map and a death wish.
I turned my back on Jesus for him too.
We're just gonna go ahead and call that a low point.
Not the lowest I have ever been, but fucking loooooow.
We've come a long way baby. Amen.
By making Sunday the global day of (y)Our Lord. What we are really doing is worshipping the Sun. Paying homage at the very least.
I'm a Sun Eater (among other things) its part of a nutritious breakfast, a source of 7 essential vitamins and minerals. My Nana pointed out years ago, the more side dishes pictured in the commercial, the less healthy the cereal was. Metaphor.
I watched "The Road" (Cormac McCarthy). That is my definition of hell, I have never been so horrified by anything as I was by the idea of a world without light.
"It didn't matter when <you> left, it was only as if the sun had gone out of the world." Susan Carroll
Way back when, Sunday's meant Limelight. 3rd floor, all us children of the night dressed in our Black Sunday best, dancing to Bauhaus, Sisters of Mercy, NIN et al. Goth Mecca. It's where I met the angel Gabriel and found temporary sanctuary.
Sunday is my favorite day again. (Silver Linings Playbook)
The rituals for this holiest of days have changed and evolved for me, but the sanctity remains.
I drink the Blood of Christ, body temperature coffee while the sun is up (and Manhattan's when the sun goes down).
The plants get (holy) watered.
I light incense, for Buddha.
I post confession on this blog.
Change the sheets so they are clean and fresh for when I crawl home anything but.
I shower and dress in my Sunday best.
I sing choir in my car.
Sunday school, as of late has been playing pinball and discussing mythology with Gabriel.
After we part ways, I get anointed with oil in the form of a deep tissue massage.
Then off to dinner with Sunday where the body of Christ looks more like steak tartare at a place called Union.
"She tells me Worship in the bedroom.
The only heaven I'll be sent to is when I'm alone with you…
"Only then I am human. Only then I am clean."
Hozier 'Take me to Church'
It is just like heaven.
"Tara Thornton: My mama, when she thought somethin' was too good to be true, sh-she'd say, "Satan in a Sunday hat." That's exactly what this is.
Eggs: You know it took me a long time to stop looking over my shoulder, too. But there are good people in this world. Sometimes, good shit happens." (True Blood)
When is a metaphor not a metaphor?
When I don't know how to end this.