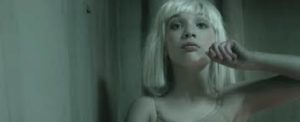 I know what sin tastes like. It's delicious. Been eating it for years. Probably why I am so thin.
Flavored with the salt of sweat, the sting and burn of whiskey, the sharp taste of smoke and the intoxication of horse leather.
Like that first roll of the word 'fuck' from your mouth, 4th grade, just knowing it was bad but no concept of what it meant. That rush that came not from kissing a boy, but the first time his tongue slipped past your lips, hands reaching elsewhere. Still not exactly knowing what fuck meant.
That rush.
As you get older those rushes dwindle to ripples on a pond instead of waves crashing on shore, so most of us seek out other ways of getting wet and drowning in oblivion.
Dancing, drugs, boys.
I had my eyes opened recently and I came to a few conclusions.
I'd rather have one good glass of scotch to sip in good company than a dozen shots of Jack that make me spin, forget and inevitably throw up.
I had my first taste of nicotine when I was 11 or so. My bedroom was in the basement. My mom was watching a neighbors kids. Neighbor would walk by my window and drop her cigarette, still lit, uncrushed on the other side of the screen. I wasn't sure what the smell was, but I knew I liked it. Stood on a chair to reach the sill, popped the screen in and took a drag. Got a head rush and almost fell off said chair. And for the rest of the summer, it became habit.
Didn't pick it up again until I was 15. With Nicole. Her mom smoked, Nicole palmed a couple and we went outside. I had forgotten I had tried it before, so had my body, and there was that rush. A little coughing and sputtering, but enough of a head rush for me to escape into obliviousness for a few blissful seconds.
That is what all of those things are. Drugs, sex, cigarettes, whiskey, rock and roll. Just little minutes of escape. Vacations from real life.
You cannot live in Disneyland. I mean technically you can, many people do. But it's not real. It's hollow.
He said…
"Until you figure out why you started dancing and kept going back, you will never quit."
He also said, a million years ago, that if I went back it would hurt him. My memory glossed over that bit and I went back while he was away. Thereby doing the thing he asked me not to do and hurting him in the process. I hurt me too, I just didn't see it. My foresight is that of a naked mole rat.
It's easy, I am lazy, once upon a time it got my child and I out of poverty…but that was a long time ago.
I am sure there are some rusted bits of some old machinery that plowed over me as a child that are going to come up in therapy. Of that I have no doubt.
But at this moment, I can see the boneyard. I know a bit about what is in there. Graves labeled Pectoral major and minor. The two muscles I was born without. Fat doesn't grow on bone. Breasts are composed mostly of fat…ergo
Next on stage. Lili/Scarlett/Siren/Sarah/Billie…aka The One-Titted Stripper.
I am a sideshow freak that hides it well.
Every shift, every show wherein no one called out 'EW what is that THING' was another tissue I could stuff in my bra to even myself out.
Herein lies the problem.
Coming home at night, taking off my bra and having all that 'even' falling to the floor. So I had to start over again the next day.
Lovers too. Just Kleenex and padding. At some point I had to come home and be naked. Shower, dry myself off and I am still me. Incomplete.
He said I have been getting by on my looks for half my life and it was time to change. To live up to my potential.
Funny thing is I haven't ever accepted my physical self as whole, how in god's name do I figure out this brain of mine. I am going to have to somehow wrap my head around my deformity. And I have no idea how to go about it.
He told me I was one of the most intelligent women he had ever met, and I couldn't wrap my head around that either.
It's not the first time I have been told this. Psychiatrists, other writers, police sergeants, teachers and more teachers and more teachers (some of them grooming me to be a writer) pulling me aside after my first 2 disastrous years in high school asking me 'what the hell happened to you?"
It's not the first time I disregarded it (and the source). I answered something akin to "On what grounds?"
That didn't go over well. I should have considered the source.
Sin is delicious, there is no way around it. But all of those things are hollow tricks for a hollow girl.
I need actual sustenance.
For the first time in a while I am quite frightened.
I am scared I am afraid of my potential.
But I am more afraid of stagnating and atrophy.
Starving on nothing.