For once. Actually, wait for it…I almost made it.
Normally I end up bloody, road-rashed and crying in a puddle of my own making.
This was better.
I saw a meme about bigger men cuddling better.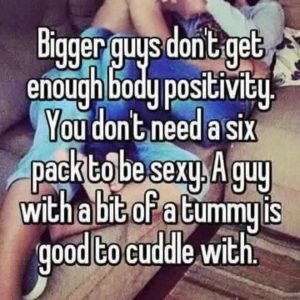 That shit drives me nuts. Real women do this and real men do that and skinny bitches are bad and men can't do this and blah fucking blah. To each their own. If we all like the same thing there would be only Appleby's, the Gap, Oprah's recommended book list and top 40 music. I would die from banality within a week.
I am always after Young Un to borrow my eyes and see what I see. He fusses about having a 'dad bod'. This negative body image shit isn't limited to women.
I personally think he is sexy as fuck. More so when he opens his mouth to sing or speak, boy has substance. I don't covet him anymore but I am not deaf/blind either.
But that's me, I am a sapiophile. Attracted to intelligence over looks every damned time. That and compatibility.
I spent way too long with men who had no desire to know me on any level other than how well I cooked, cleaned and fucked.
I'm past that now. But even they had bellies, some of them.
There is an anthropological precedent that leans towards a natural attraction to a heftier man.
Cave men had to journey far and wide to bring home the proverbial bacon. Bigger belly, more fat stores, more successful of a hunter.
I messaged he who posted said meme and said 'I like cuddly menfolk'. I do.
Hot Neighbor and Gelfling were exceptions. I outweighed both of them by 10 or twenty pounds (never could guess weight). Their hipbones and cheekbones sharp as knives. The pixie dust running through my veins loved the pixie dust running through theirs. And if my washing machine ever broke I coulda just scrubbed the dirt outta my clothes on their abs. I let them go.
Wolfling was tall and toned, but he was a fun gym-rat-sport-fuck, nothing more. Although he had moments of sweetness too, I will give him that. But that is all he gets. I let him go a long time ago.
I pulled up pics from the archives just to say 'look, this is what my exes look like'.
Ex hubby and the Hulk in particular.
"Well, I figured the Hulk was big, you call him the Hulk."
"Good god I loved walking next to him, feeling so safe and so small". I said, "how I felt about him wasn't conditional on him loving me back, mind you he finally said it the day before he moved far away."
I said something to him about loving Memphis Lee, and he said "We love you too."
My eyes lit up, so did his. I remember that moment clear as day, blue eyes shining in the sun, that squint he would get and just the slightest curl to his mouth when he saw that I heard him and understood. I do, I did, I always did.
I just love who I love for as long as I love them.
My love for the Hulk manifested in an hour drive every two weeks to knock on his door and give him candy and a hug. I called it reverse trick or treat. Sometimes he let me in the house, sometimes he didn't. He had the sads worse than I had ever seen. He moved home the day after he said that and has been happy since. And I let him go.
I had a private photo album hidden up in my Facebook with photos of ex-hubby. I'd forgotten about it and briefly wondered if I had deleted it, but nope, there it was. Was being the operative word. I opened it looking for proof of his thickness to prove my point and braced myself for … something … anything.
And nothing happened. That was what shook me up a bit, the nothing. I took what I needed, just a moment from the past to show the present and deleted the damned thing. I let him go years ago.
I spoke yesterday about the distinction I make about 'before' and 'after'. Sufficed to say, ex-hubby was from the time called before and there was no magic there.
The time called after has been a sort of fairy tale. My bliss coming in metered doses, chapters if you will.
No happily ever after…yet.
Glass slippers and valiant knights, wolves in men's clothing, Giants and other assorted beasts and fae.
And now this…
"You're the King and I'm your lionheart." Of Monsters and Men.
I found my king and I am his lionheart. I just had to figure out what that meant.
I started the whole body type conversation trying to explain that I don't have a type, but I do.
It's just not physical.
I love someone.
"He loves me and is terrified of it, I am not over him. I blink and he is there, so I try not to blink."
"…you're not over him….It's never fun it hurts."
(over him is not an option)
"Especially since I know he is just being a chickenshit.
(oh lord)
Maybe I do have a type.
FUCK."
That was when I started to cry. Not from the memories but because of the reality of this mess.
I love someone who is afraid, because I am afraid too.
I wasn't running, I was standing still. Which, as it turns out, is just as bad.
I likened my heart to a revolving door. I don't know how to deny entry without risking broken glass and no door at all.
Time to tear it all down and start over.
He comes and goes and until now I just let him because I too was coming and going.
Not anymore.
Maybe I should move out of this building and build a castle with a moat around the empire in his chest.
Keep us both safe from the world and broken glass.