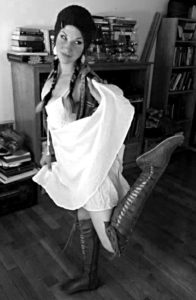 I should be writing.
I am not out of the sad zone just yet but I can see where the end is, timing depends on my momentum and traffic.
Instead I made 8 new playlists.
My fixation du jour?
Cleopatra by the Lumineers.
"I was late for this I was late for that I was late for the love of my life." (I really was)
I heard it in a store and quickly scribbled down lyrics so I could look it up.
I am currently late, for an actual party.
The house is clean, the bed is made, the dishes are done, the dog has been walked. I am showered and adorned semi appropriately its 39 degrees, 102.2 F. I googled it. So I am wearing a sheer skirt, my ass is covered. The rest of my tattoos, just barely.
I am fighting going out.
I want to stay home with my music. I barely know anyone where I am going and my shyness is coming back in a way I don't know how to deal with.
So I have gone back to high school and am hiding in my room with my albums to shield me from the world outside.
I was told therapy is making me into an open wound.
There it is. I feel raw and exposed right now. I don't know how to people. The last few attempts have gone badly.
But I promised. And I love the birthday girl.
Just one more song…please.
I remember being blissed out when I realized you could find music on the internet. Just think of a song and there it is. Except I can't seem to find a copy of Crash Vegas covering Down to the Wire by Buffalo Springfield.
Every once in a while I hear a song that was hidden in an album somewhere, and or never made it to the radio and I didn't remember it until I heard it again by fluke.
My heart stops, then starts again a little too quickly. It hurts. I shake. Sometimes I cry.
Elvis Presley and America by U2, was like that, heard it pouring out of a van in a gas station parking lot and watched the sun go down with a stranger in total silence and awe of how perfect that moment was. Hadn't heard it since 1990. 20 years had passed. Could have been to the day, I have no way of knowing.
I had a moment when I was waitressing, Curtis put on a Peter Gabriel album and I heard I Grieve for the first time in 10 years. I stood frozen in a sea of people, just lost in the music, he took the plates from my hands and served them for me so I could just be.
Yesterday…the Badger by the Tea Party came on and I was transported back to my early 20's. It made it onto the instrumental playlist. I haven't named that one yet.
The one with only women is Angels of Harlem, and elsewhere.
I like naming things.
On the Mend by Foo Fighters was on one drunken night in Giant's kitchen. Hadn't heard it in forever. We both just sat quietly until it was over and I sighed a lot. He was playing Matthew Good Band in the truck the first night he picked me up for our first real date. "I came back for you, so you wouldn't be alone."
I am alone now and avoiding that song.
Once upon a time in a strip club probably 7 years ago now, I sat with a table. Asked them what they did when they mentioned working together. They worked for a company that was engineering speakers that attached to the body and connected to the nervous system.
I got totally overwhelmed and excited. I took a card, they offered to let me try it.
I proceeded to get rather drunk and lost said card, never heard of it again. But it sounded like heaven.
I wonder how many once in a lifetime moments I have experienced and then lost in strip clubs, in the haze of drinking myself not shy.
Speaking of. I have quit. My skin is happy with the lack of alcohol I have been imbibing. My body is doing fine as well, except…
I was putting together the playlists and stumbled on Rat Finks, Suicide Tanks and Cannibal Girls by White Zombie and muscle memory dictated and urge to run to work and jump on the pole. Good god I can move my body to that song. Mark that one as a trigger and pack it in a box until a later day. It isn't safe yet.
Sitting in the Giants truck. He lured me in by saying "I have this really great playlist" and proceeded to play one of the CD's I made him. I smiled then and I am smiling now. It was the same disc I had to replace because he wore it out.
He stopped for a second. Said he heard something that made him think of my trip to New Orleans. I smiled again and am smiling again now.
I listened for a minute. Went to peek at the display to double check before speaking, but I knew it was The Band and said so. He said yes. I replied "my sister's dog is named Levon."
Thought of another story tonight, wherein I remember one of the half a dozen times my dad ever yelled at us. He had gotten a VHS of the Last Waltz. Sat through all the opening of all the presents, had breakfast with us, cleaned up, did all his weekend/holiday dad things and finally sat down to watch it. We were all running and being loud like kids are prone to do.
He said "I have been waiting my whole life for this, let me watch it in peace."
I swear I barely breathed for the next 4 hours.
I feel that way too now.
Having to skip back to the beginning of a song because I wasn't listening with all of me.
I wish we could do that in real life. Just hit repeat, make lists and mixed tapes of our favorite bits.
Skip back. Make lists blend sweetly with perfect cadence.
Shazam experiences so we can see the details of what is actually happening.
Wishing I could go back and hear things again for the first time.
Sometimes, when I get really lucky, that last wish is granted. And it's almost better with that buffer of time. I am a new girl hearing something old and precious with new ears and a new found respect for something once lost and found again.