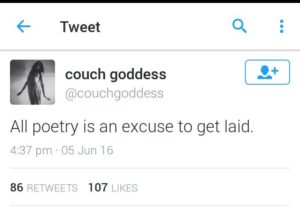 Not poetry exactly. But pillow talk.
My girls wanted vacation dick and vacation dick they got.
I was the facilitator, I was the adulty adult, I was the common thread.
I drove us all back to the cottage, while they squealed and squirmed and talked much too loud. I woke up after 3 hours of broken sleep to drive the boys back to their trucks before the sun was up during what counts as rush hour in that tiny little town.
I used to be the girl getting driven home at dawn to make it to work, a lifetime ago.
As they were getting laid I laid in bed, worried at first for a myriad of reasons.
Are they safe? When 2 of them didn't come back right away from the vicious lake I could not sleep. Then I heard a soft giggle through the window and relaxed a little until it quickly morphed into 'what will the neighbours think?'
I only care what the neighbors think in said tiny town where I am from because that worry is in my marrow like a cancer I can't shake, or a bone long ago broken that never mended quite right.
Then the soft gasping and moaning of sex came from inside the cottage and I relaxed a little into sleep. Had strange dreams.
The girl beside me on the other side of the locked door said she was a bit envious. I wasn't.
Back in the days that I lived there I had no such friends, or very few. No one that wasn't viciously jealous or angry when I got the attention, some attention, any attention. My 'best friend' would make sure there were days of consequences for minutes of pleasure. It was good to be home with my girls from the present hanging out in my past. It was cathartic. I got to see a very clear line between what was and what is.
I forwent the vacation dick. Joking that I couldn't possibly sleep with anyone because I probably knew their brother/wife/girlfriend/parents etc. it's a really tiny town.
Case and point, one vacation dick was my sister's best friends little brother, born 4 years before I left that place so I didn't even know he existed. He didn't know about me either. The lake isn't the only dangerous water. I am careful where I swim.
I found it odd and almost lovely to be sitting in the same place I had sat 23 years ago, at a table with a different incarnation of 'my girls' in the exact geographic location we used to.
Once upon a time it was almost always my job to get the girls and the car home. Some things stay the same.
Truth be told, I didn't want anyone anyways. I am in the middle of sorting something out with someone and vagina has taken a rather high road about it. We begin to covet what we see every day, and what I see are texts from Lumberjack. I covet.
Mind you, I had a twinge of jealousy on the ride home. The two who got laid were speaking of pillow talk and snuggles.
Fuck I miss my lumberjack.
My kingdom for some snuggles, my kingdom to hear his actual voice again. See how closely my mina bird brain has mimicked his tone and cadence in the inner dialog when I am reading aloud the written reiterations I get from him daily. I heard a boy outside of a pizza place last week and my head whipped around, the voices were close, out east and steeped in honesty.
Then I wasn't jealous anymore.
One of the bearers of vacation dick was actually a dick.
I sat quietly in the back seat as my 3 girls waxed poetic and got excited about how this one guy was such a good fit, the things he had said, he'd talked about trips to Bali. She was pontificating about how things might be.
I said nothing. But my mind was screaming no.
Just like every character ever in Star wars I had a bad feeling about this.
It was confirmed when we got home, found him on Facebook under a slightly different name than he had given, both profile pic and cover photo of he and his girlfriend.
There had been no mention of a girlfriend. Why say Bali? Overkill?
"Way to say everything I wanted to hear, asshole." Was her message to him.
Here is what hurts me. And I will tell her this when I find the words.
Yes, it sucks balls that he didn't tell you about the girlfriend so you could have made an educated decision. But all the things he did in the moment were good. They had prolific, great sex, we all went skinny dipping in crazy high waves and lived. We had a good night on the patio with an amazing dinner, laughs drinks, good times.
And now her memory of a lovely 2 day girl's vacation is sullied not by a cute boy per say, but where her mind took him after the fact. She is mourning and angry about the things she wanted to see coming, not by what was.
When I lived in that town there was no Facebook to fact check. And I did have random sex with random boys who probably had girlfriends back home. It's a cottage town and a risk you take for a night of fun.
I am not justifying his actions. They were shit. I just hope one day when she looks back on this she can appreciate the good times that were had and not the future she wanted that didn't materialize.
I walked away from the weekend feeling clean and good and so very content with mylife exactly the way it is now.
Yes, I dream of Lumberjack and snuggles. But I am trying really hard to live in the moment and not look too far ahead.
Whatever will be will be. And what is…is good.