Um, all of them Rob
ALL. OF. THEM.
GEMINI (May 21-June 20):
Now is an excellent time to FREE YOUR MEMORIES. What comes to mind when I suggest that? Here are my thoughts on the subject. To FREE YOUR MEMORIES, you could change the way you talk and feel about your past. Re-examine your assumptions about your old stories, and dream up fresh interpretations to explain how and why they happened. Here's another way to FREE YOUR MEMORIES: If you're holding on to an insult someone hurled at you once upon a time, let it go. In fact, declare a general amnesty for everyone who ever did you wrong. By the way, the coming weeks will also be a favorable phase to FREE YOURSELF OF MEMORIES that hold you back. Are there any tales you tell yourself about the past that undermine your dreams about the future? Stop telling yourself those tales.
https://www.facebook.com/Rob-Brezsnys-Free-Will-Astrology-133041234078/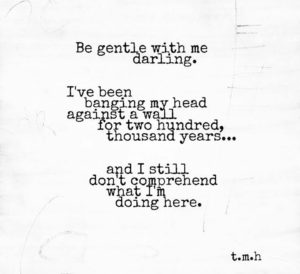 But that is what I do. Isn't it? Post-game analysis, see where I went wrong…
I was wrong…right?
Rob says stop, so stop I must.
This is the end, my only friend the end. The Doors
I haven't been that emotionally down in a long time.
How about 'every new beginning comes from some other beginnings end' (Semi Sonic)
That works.
I never write about endings on here, or very rarely I guess.
Sometimes it's because…'and then he never called me again and I have no idea why' doesn't really make for a gripping story.
Sometimes it's because things just faded into a friendship, or with the ones wherein I had the revelation that I was 7 of 9 and not 'his girl' like they had promised.
Why would I want to archive that? I pick up the pieces and move on, sometimes slowly… then all at once.
I've been left and I have been hurt and I refuse to visit pain on others.
I am rarely the one to leave. End of story.
In the interest of clean breaks and tidy endings…
On a long enough timeline the truth always comes out. Still waiting on a couple but I know they'll come.
My first foray into dating ended after 3 months of happy when I asked if we could be boyfriend/girlfriend, him saying he 'wasn't ready for a relationship' and me waking from a midsummer night's dream with a very loud voice echoing in my ear stating "her name is Kayla and she has cotton candy hair."
It was actually K___ and her hair has been baby blue, baby pink and lilac respectively in the months and years that have passed since then.
18 months later, when she was mean to him, I consoled him. Not like that, just said nice things.
The next one fell into a deep chasm of depression and had to move away atop a mountain.
No great mystery there.
He is as happy on his side of the country as I am on mine.
There was a patented Fuckboi in there, again nothing to be solved, he just was what he was. Well, is what he is. He still pops into my inboxes from time to time. I say hello and deliberately leave it up to him to plan something, knowing he won't. He never calls back until the amnesia wears off again and he wonders what I am doing or runs out of other girls to fuck. He has abandonment issues the reasons for and the likes of which I have never seen so I refuse to be cruel. Ain't waiting around neither.
Thai Fighter was engaged the whole time.
Black 19 was incarcerated, again.
The mystery of Lumberjack may well remain unsolved. He blocked me from everything ever and it's not like I ever saw him. The only thing I was good at was living without him, so that's a freebie.
Gelfling…well that is a whole other tale along the riverbank. I met his new girl recently and everything suddenly made sense, twice actually, once for him and once for another. A two-fer if you will. A perfect balance of me being too much and them feeling not enough. Can't be helped I supposed. I refuse to shed my muchyness and they have yet to grow up. The hazards of young un's I suppose. No great loss in retrospect. Like setting down the Holy Grail and deciding on a sippy cup instead. Better call not-Becky with the red hair.
There is a footnote here.
I am hard to explain to people. I am older and strange. By vocation I am a writer of truths and porn, plus the stripper thing. I am not not-Becky, red headed or otherwise.
To be with me, to claim me in public you have to be pretty brave. You have to give fewer fucks than most about what other people think.
Am I worth it?
I think so.
Nevertheless she persisted.
I cook, I clean, I fuck and I love. I clean up nice and can carry a conversation.
I don't bitch, steal or lie.
I am already way ahead of most.
I know this now.
Took me a while.
I was mired down in the idea that I had to take some responsibility. But it isn't mine. I did my part. I showed up and I cared. I contributed to their happiness and well-being. I asked for very little in return.
I've long held the belief that I as the common denominator must be part of the problem, even if it was so basic as 'I felt bad about myself and thereby made bad decisions'. At least I made a god damned decision.
That scene in Good Will Hunting at the end. Robin Williams looks through Matt Damon's file, sees the abuse and says "It's not your fault" until Matt Damon breaks down and sobs from his core.
It's not my fault, these things that have been done to me. It's truly not on me that they left. I did what I was supposed to, I came all the way forward and stayed.
It's not my fault at all.