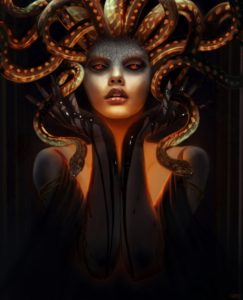 On a long enough timeline everyone settles into the boxes I put them in.
He'll stop blowing the lid off eventually or so help me I will get out the duct tape.
Or the coconut oil.
Once I've compartmentalized them and figured out the lessons they were sent to teach me I still get nostalgic twinges from time to time. I cared for them, still do when they let me. I saw different versions of different futures with them.
As of late, it has become abundantly clear that when I feel like I could actually end up in a viable relationship with someone new, them old ghosts all come a knockin'. Like I have to run the gauntlet of temptation and answer the Sphinx's riddles to come out the other side clean.
It has happened before, it will probably happen again. It is history repeating on repeat, just with a few new players.
I also have to remember everything they taught me, pop quiz tomorrow or the next day. Every day.
I see your patterns and raise you a 'if you wanted me you would be here'.
The gargantuan moral in all of this is no matter what I saw happening, or the promises they made…none of them are here with me now.
I went to bed alone last night and for as many nights as I can rightly remember in the recent past. Unsustainable. The center does not hold (Yeats)
Viable.
That's the million dollar word.
Spoke to Jason last night. At least he acknowledges what a big deal it is for me to use that term to describe a man.
Basically translates to 'I haven't fucked this up yet'. Don't plan on it neither. There is no angst here. Just so far, so fun. And due to circumstances beyond my control I haven't slept with him yet, but we keep talking. It's like accidentally dating. Probably a good chance to get it right all things considered.
The last few times I tried to date someone it went bad. I stumbled and fumbled, said things when I ought not to have, kept my mouth shut when I ought to have been saying something. The usual.
But I learned.
Hulk taught me that I didn't have to settle to settle down with someone. That all the qualities I admire in a man can be found in one body. Just not his or with him. He had his dream life waiting and I stepped aside gladly.
Young Un taught me that 20somethings are plausible, possible options. And that friendships can grow from the bones of old not-quite relationships…on that long enough timeline I speak of with fondness and regularity.
And now the Giant.
He said he was riding his bike over, I knew it meant he was planning on drinking. I had no plans to stop him. A few beers tends to flush his cheeks and loosen his lips a bit. Look, don't touch was my mantra, might as well feed my eyes if that is all that can be fed. Ears too. He says nice things. Enigmatic things, prophetic things. I swear he is the only exception to my rule of men where the words they say are the words they mean. He speaks in riddles and rhymes sometimes. Not sure if I like when he does it as I have grown so accustomed to the other and found peace there.
Working on peace. Draping myself in white flags trying to keep both the sexier and more vulnerable pieces of me covered, but he is a snake charmer and sometime I cannot help but wiggle and dance this way or that, then the music stops and I am not sure how I ended up tucked into the space we should have left for the Lord.
I forgot myself after 2 beers myself and bent over in front of him trying to find a song. I know what I must have looked like in that moment. Blissed out, swaying a little to this random piece of music I found with baroque guitar and Uilleann pipes. Smiling, eyes half closed. Hot Neighbor was here too (oh ya, that happened) and him being near me is akin to being in water (I float), Sunshine was in fine drunk form too and we had all been belly laughing. I am pretty when I am happy and I was.
Or maybe I just moved in that mythical way he has accused me of, the one that flips his switch. He hasn't explained it to me, just acknowledged it. He has explained nothing. Or quite possibly everything, who knows at this point.
It was probably just the Coronas.
And the mood lighting, and the good moods, and the food and the whole night.
He kissed me on the porch in the fairy lights. And there may have been some territorial pissings in the dining room prior, as I said Hot Neighbor came by.
I told Jason this and he asked if that was when the orgy started. No habibi. No orgy, and not stress either oddly. Everything just flowed, as it should be.
Giant thanked me profusely for not letting things get out of hand. As if I had a choice. As if any of them give me choices. "Jumping takes strength of will"* and I don't want him by halves.
I think he sees me as Medusa, too scared to look right at me so he just sees my reflection.
And therein lies the lesson. The Giant, the Poet and Gelfling. All left because of preconceived notions about what I am and what I want.
None of them thought to ask me. None of them took the time to learn me.
Giant says he will one day finish the book of me.
Jokes on you darling.
For one, you never looked past the cover.
I am an open book. Rare and valuable.
And two…
I plan on dying with a pen in my hand.
Rewriting until I get my happy ending just right.
(*Dead Like Me)