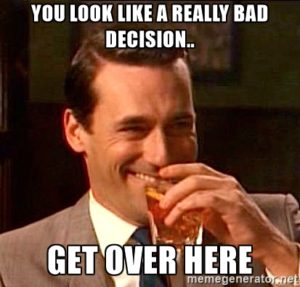 I bet you think strippers like you too. (Forgetting Sarah Marshall)
Last night was the night to pop my girls 'never been to male strippers before' cherry.
She's just been through a break-up and is coming out the other side.
I had to be the one to take her.
Strippers do like me.
Way back in the day I may have dated one or two.
We were talking on the drive about working, clubs, stripper boys, she didn't know what to expect and I wasn't sure either.
I had a moment of Zen in NOLA in April with the sweetest stripper, we still check in from time to time. He is doing well and this pleases me. He is a good story. But the rules down there are different.
The boys I dated danced for men and I rarely went to see them at work and that was a decade ago or even longer.
Things change.
And they stay the same.
We were also talking about drinking. I'd stood in my dining room before we got in her truck and vowed to only have a drink or two.
"I don't want to get drunk." I said, and I meant it. I never want to get drunk. I like drunky better. Just that happy, bubbly, tipsy before you shed all reason and self-control. Half naked, half in the bag.
The best laid plans of mice and white girls.
I didn't get white girl wasted.
In the sea of little black dresses on little white girls there were varying levels of 'oh honey you shouldn't be in public right now'.
I confessed to being a geographical alcoholic. I am.
I have 8 bottles of booze less than 8 feet away, half a bottle of wine in the fridge and a few beers brought home from work, untouched since Wednesday.
I'll probably go another month or 3 and have a dozen drinks, maybe.
Unless I go back to a strip club.
I ended up getting drunk last night and am writing this with a righteous hangover. As I was saying 'I don't want to get drunk' , I said "I can't not drink at strip clubs". I had a moment of clarity wherein my inner voice said 'who do you think you're fooling?'
Something about those places ignites my inner booze hound.
Every strip club I have ever worked at or walked into, I drank at. Sometimes to the point of blacking out.
Even when I was really just a waitress in said clubs I was adored by my co-workers for somehow being able to cajole multiple shots from customers for after work. 16-20 stacked shots waiting at 2:45 am wasn't rare. Enough for me to get lit and share.
And even when I was really a waitress and drinking responsibly, there were a couple nights where I really should have been fired or videotaped or both.
The story of one night in particular came out.
Years ago I'd had beef with my bartender for a week. We were not playing nicely. It hadn't come to blows but we were slamming things down on the bar and shit was ready to break. He brought a bottle of tequila and slammed that down on the bar after work one night, looked at me and said "we're going to drink this and work it out."
Half a bottle later I was on stage with 2 new strippers dancing away in my street clothes, doing the splits like I had never quit and making out with the tiny girl whose name I cannot recall. The bottle of really good tequila migrated over to the stage with us and the shots kept coming. It got a little heated and I ended up making her squirt on stage in front of half the staff and a few leftover dancers. There was more to the night but we'll just leave it there.
The end of the story is I threw up outside my building, staggered up the stairs and collapsed, clothed, in bed next to my boyfriend at the time. I had ejaculate from my chin to my belly button and up to my elbow, I reeked of sex, puke and alcohol and I was a disheveled mess. He got out of bed an hour later, kissed my forehead and went off to work. Didn't notice a thing or never mentioned it if he did.
Never underestimate the power of denial. (American Beauty)
Now before all y'all go thinking I am the worst girlfriend ever, there is a little more to the story. He had gotten black out drunk a few weeks prior and smashed me in the mouth for not fucking him.
I had mentally checked out of the relationship, my body had yet to follow.
I didn't fuck her for revenge, but I got drunk to deal*.
I made it into work the next night and there were no consequences there either except a raging hangover and they had all placed bets on what time I would try to bail. I didn't, I stayed. I am stubborn like that.
Took me a year and another beating to leave that boyfriend too.
Same club, different time, I got drunk with the man who would become my farm husband. He was on a date of sorts, with a large group of cool kids, they got me smashed and I kissed him as he walked out the door, I didn't know one of the girls was his not quite girlfriend. She became the mistress, our sisterwife and is now his common-law wife.
That time there were consequences.
But whatevs.
*It's never a good idea for me to get drunk when I have something to deal with.
I posted once to Facebook "For the next few hours all statuses will be brought to you by whiskey, lots and lots of whiskey". 100 likes. Seriously guys? Someone switch off the Wi-Fi and hold my hair back.
We need to introduce breathalyzers for phones. Blow over and you can only call for pizza, cab or 911.
I almost died one night fairly early in my marriage when I was waitressing at a strip club, did a day shift on a Friday and proceeded to slam 6 Jack's in 20 minutes before leaving work followed by half a mickey at home. I hadn't eaten since Monday. I did however break into his Facebook account and I wish I was drunk enough to forget what I found there…but that would have meant alcohol poisoning and possible death.
I stayed in the marriage a year for every shot of Jack I took to erase that one fight we had.
Stubborn and drunk on what I thought was love.