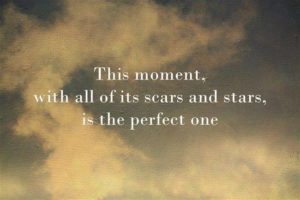 Oh my god.
I am actually happy.
Cue the tears.
(They are currently cathartic, full of overwhelm and gratitude.)
This is the point where I would usually see something shiny, veer off the path, start falling for some fuckboi's bullshit promises, slap on some Radiohead and sabotage the shit out of everything.
Fucking Postcards from 1952 history repeating and rereading old articles instead.
Radiohead would have been a safer, saner choice.
Forget about your house of cards and I'll do mine
Not today Satan, not today.
(author's note: of course 2 nope, now 3 of them showed up AS I was writing this)
I have this loop in my head right now. U2 song, Elvis Presley and America "you're through with me but I know that you'll be back for more."
History dictates that if I build myself up, they will come. If I get happy it's like turning on the porchlight and they use it as a beacon to find their way home. My porchlight shines like the sun apparently, or the Stella Polaris. I know this like I know the constellations in the freckles on the back of my hands. These same hands that were once held and then dropped without warning.
What if I decided not to be here when they came back?
What if I stopped living in the past and started being here and now?
I'm already doing better than before.
I'm fighting the good fight right now. Against doubt, fear and temptation.
I am almost strong enough to look the god's in the eye and say 'fuck it, go ahead and tempt me'.
I have been saying no like it's my first language.  But just to demi-gods. The titans remain blissfully quiet.
I can do this. Been practicing.
Something was planted in me when I was young and it gets watered when I am happy. But it is not a good thing that grows, it's a vine that twists and turns and chokes the life out/blocks the light out.
It only recedes when I go back to being lost and alone wondering what the fuck just happened. Then I get to breathe and see clearly. As much oxygen as I can sneak in through the sobs and as clear as I can through tears anyways.
My natural state of being is to love and not to be loved back?
That can't be right.
How did that switch get flipped from lovable to unlovable?
More importantly how do I switch it back?
It's become pathological. I pick men and situations that feed this thing. The seeds I plant have come in these packets labeled temporary. Perennials. Nothing that comes back on its own accord. Just stuff that dies when its done and I have to start over. Or worse, I hand them salt and they sprinkle it on the earth before they go and nothing grows for a really long time.
I said to a trusted friend 'I don't even know how to move with this much space. I don't know how to not cover my mouth when I laugh trying to hold myself in and back.'
He texted back two words make noise, and I have been. Joyous ones unto the lord. Derpy deep-throaty laughs. Moans of pleasure. Whatever feels like flying out of my mouth.
The moon was full last night as was I.
I read something it being a good time, astrologically speaking, to "use your wounds to learn and not worrying about healing them".
Fuck, I wish I could find it, but I don't want to get distracted by the shiny internet before I get this out.
I've lost my head, my hands, my legs and my heart and I am still standing, feeling, touching and seeing. Even the worst wounds heal on their own. This I know. Just like the earth reconciles itself, as do we.
But what have I learned?
I am trying so hard to be good. So hard to focus. So hard to just be okay being me. No edits, not hiding. It helps that he is unapologetically himself and doesn't mind me being a dork, seems to prefer it actually.
I had a moment after, sitting in his lap and there was this feeling of butterflies, trying to beat their way out of my stomach, trying to reach his hands, his skin, his anything. And I had a fight or flight response. I remembered my third option and I froze. Just stayed in the moment. I stopped being scared and those troublesome butterflies started to feel nice, all flutters and caresses with gossamer wings. He touched us. Repeatedly.
I sat on his couch last night and I watched him. I watched him watching a movie, getting up naked to stretch after sex, heading to grab us another beer and over my shoulder as I walked out the door to go home.
He doesn't look like anyone or anything I have ever seen.
He doesn't act that way or speak their words either.
He looks like nothing I have been through.
A huge part of life, and one that I tend to skip over, is going new places and trying new things.
I have to remember that once I landed in LA and after a day it felt more like home than anywhere I had ever been.