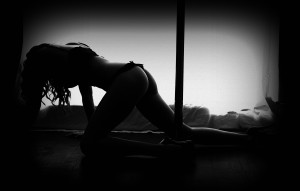 "Show me show me show me how you do that trick"~ The Cure
"I can't" she laughed. "It will make you scream" she said.
"Seriously Sarah, You do NOT want to be able to do this."
Okay.
Its 7 years later maybe, give or take, Skrillex 'Bangarang' blaring in the library, "I'm eating Fun Dip right now not giving a fuuuuuuuuuuuuuuck"
I don't even like dubstep.
In front of a mirror. Never watched myself before. (Weird right?)
Wiggle wiggle wiggle … Pop.
Jesus Fucking Christ what the Actual Fuck did I just do?
Do it again.
                           I
just
                   dislocated
my hips.
                      wOw.
#girlswhogetsmashedupincarwrecksandgetbackonstageandowntheirshit.
She was in a car wreck too, busted pelvis, stubborn… like me.
I told you I fell and I got up… on stage in platform stilettos, under black lights with a brass pole in my hand HOLDING myself up.
She mega-twerked to Counting Bodies like Sheep ~ Perfect Circle before there was a word for it. I always stopped what I was doing to watch, I cannot hear that song without thinking of her.
Songs hit my memory hard.
Me: "Did we just fuck to Somewhere Over the Rainbow?"
Him: "Yes my love."
That was just the once.
The soundtrack to that relationship was Wintersleep, "Oh have you seen my ghost" (ya, I let him into my bed, sorry about that).
"I will (not) follow (that one) into the dark." ~ Death Cab for Cutie.
Heard that song and dumped a boy, because no, I would not, I wouldn't even follow him to the place where he lit himself on fire so I could watch him burn.
"Wake up dead man, can't you see I'm starving" ~ Holly McNarland held my hand in the year of Dan, whilst I was Numb.
Jesus was "Pepper" ~ Butthole Surfers, I could taste him on my lips and smell him in my clothes, at least once a week, he used to come to work and get dances before he decided to fully cheat on his woman with me. Baby steps.
St. Anthony were walking down the street one day early in our relationship, he hands me his ear buds, "I want to (fucking) tear you apart" ~She Wants Revenge. Really honey? That makes you think of me huh, I am touched and terrified in equal amounts.
Hey, I stayed, and a week later we stumbled on Keane, "Is It Any Wonder". Oh my god I loved that song. He let me play it 100 times in a row. Years later I actually listened to the lyrics…
Seriously, this was our theme song.
I, I always thought that I knew
I'd always have the right to
Be living in the kingdom of the good and true
And so on, but now I think I was wrong
And you were laughing along
And now I look a fool for thinking you were on, my side
Is it any wonder I'm tired?
Is it any wonder that I feel uptight?
Is it any wonder I don't know what's right?
Sometimes
It's hard to know where I stand
It's hard to know where I am
Well maybe it's a puzzle I don't understand
…
Ya, that happened. 7 years of Exactly That.
Sisterwife and I took turns being Dolly then Jolene, then Dolly then Jolene.
Young Un was the singer for one of those death/black/crazy growling metal bands. Sexy as fuck once I wrapped my head around it. But get this, we were eating nachos on our first date and both started bar stool dancing to 'I got my mind set on you' ~Travelling Wilburys. That may have been the moment this kitten got smitten. Yes this.
Lana Del Rey was peddling her breathy crony dirty love junk to my ears then too. I meant to sue her for making me fully fucking retarded, high on nothing, worrying about forever. She gets her own post.
The recovery period OST was primarily Daughter namely the songs Youth, Candles and Landfill. 'I've lost it all on just our silhouettes', 'you're too old to be so shy he says to me so I stayed the night'. But mainly 'this is torture…this is dangerous, I want you so much but I hate your guts.'
Soundtrack to Sunday? The first time we fucked was to Rumors ~ Fleetwood Mac. Oh ya, the ultimate break up album of all time. It fits, sorta. 'When times go bad, when times go rough won't you lay me down in the grass and let me do my stuff'. Yup.
I was practicing dancing in the library because I am going back to work. I fucking miss it like mad. My heart hurts, time to get whole and strong again.
I chose my music with great care, based on mood, crowd and energy level. And if no one is around shit gets weird …"Shake Senora" ~ Harry Belafonte, or sometimes "Brenda Stubbert" ~ Ashley MacIsaac, my favorite "Worlock(ed)" ~ Skinny Puppy, now with extra Charles Manson.
I have severe, chronic lizstomania. Part of the reason I love being a stripper, there is always music in the air.
I miss that feeling of "holy shit, I just fucking nailed that". My Cheshire grin that comes with getting away with it…  and it's fun for me. I escape for 12 minutes at a time, become the Angel Of Small Death  ~ Hozier (shoulda worshiped her sooner)
I know I'll shake when I climb back on stage, like it's my first time, hence dance practice. I am back up to 95% flexibility, spending a week with the Queen of pole tricks, finally going for that Thai massage to re-tear ligaments. I think this last triumphant return of mine will be triumphant.There are a few songs I simply must dance to and I need this, it's the Monster Hospital where I nurse my wounds.
I was always a snake charmer, now I am a snake girl "So shed your skin and let's get started"~ Hunters and Collectors.
I can unhinge my hips I'll swallow you whole.
We will just add that to the list of my super powers, "I slithered here from Eden" ~Hozier, after all.