Mama Susan (My Queen Bee) said to me when I posted this meme…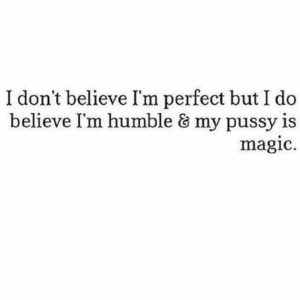 "The day is coming when you'll realize that your pussy is humble and you are magic."
"Soon" she said.
I already have. He'll probably see it too. Pray he don't call me when he notices.
So what are you gonna say at my funeral, now that you've killed me? Here lies the body of the love of my life, whose heart I broke without a gun to my head. Here lies the mother of my children, both living and dead. Rest in peace, my true love, who I took for granted. Most bomb pussy who, because of me, sleep evaded. Her god listening. Her heaven will be a love without betrayal. Ashes to ashes, dust to side chicks…
I'll drink to that eulogy.
Pray I don't die here.
I'm not dead yet.
Once upon a time Sunshine said she was going to finish her water and get into the wine.
I said "baby please, drink that Ménage a Trois the Giant left here, get it out of my life."
Rolled my eyes.
Middle fingers up.
She said she wasn't going to get turnt, and I laughed, "How can you baby girl? It ain't even a full bottle".
She said 'say goodbye to boys that don't pick you & show up half-drunk with half-drunk bottles of wine'.
The biggest grin pulled up the corners of my mouth and I spit 'tell him boy bye.'
Gift me liquor, tell me to keep drinking, then dismiss me for what you coaxed me to do?
no no HELL NAH
And I don't feel bad about it
It's exactly what you get
Stop interrupting my grinding
(You're interrupting my grinding)
Middle fingers up. 
Leave unfinished business in my house?
Tell him boy bye
Make me apologize?
Tell him boy bye
Text me while you're with her?
Tell him boy bye
I ain't sorry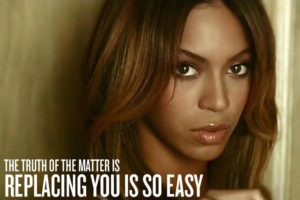 I'd only heard snippets of Sorry by the Queen B. flipping through radio stations.
"… Her shroud is loneliness. Her god was listening. Her heaven will be a love without betrayal. Ashes to ashes, dust to side chicks."
Heard it full through the other night and everything came rushing back. Broke my heart and filled it up simultaneously.
I love it when women get strong.
She was then I was the fucking side chick. I was ashes. The fire went out.
He poured ¾ of a bottle of wine on it after I doused it with 3oz of vodka in a wine cooler.
I ain't sorry
Let's have a toast to the good life
My therapist told me I am allowed to have more than one emotion at a time. I laughed so hard I cried.
I told Giant I had run the gambit of feels and landed on shame.
But there was more, there is always more…until there isn't.
I am shocked anyone found my off switch as I am forever turned up and on.
I am pissed.
I carry with me the tiniest bit of uncharacteristic hope that he will wake up one day and he'll realize what I am* and what he's lost.
Beyond Most Bomb Pussy…
He always got them fucking excuses
I pray to the lord you reveal what his truth is.
Yes Queen B, she said it better than me. And those Beyoncelogues, damn woman. Preach.
Intuition, I knew this was coming.
Denial, I pretended it wasn't.
 Anger, I was venomous.
Apathy, now I don't care.
Loss, his.
 Emptiness, I found room to move in this space.
 Accountability, I own what I did.
 Reformation, I don't want to be loved by halves, I'm whole on my own.
Forgiveness, I forgive, until I can't anymore, and then I forgive myself.
Resurrection, I deserve better.
 Hope, I am better.
and I can do better.
Redemption makes him look small.
 He only want me when I'm not there
You better Becky with the good hair.
Sorry, I ain't sorry
No no hell nah
https://www.youtube.com/watch?v=QxsmWxxouIM
http://www.bustle.com/articles/156559-transcript-of-beyonces-lemonade-because-the-words-are-just-as-important-as-the-music