For a long time I thought the buzz around the Queen Bey was much ado about not much at all really.
I've been wrong before.
Bow down bitches.
I heard her referred to as 'the queen' and I understood it to a degree.
I saw what they saw, mostly. A beautiful, powerful, talented woman who carries herself with dignity and empowers other women.
Who run the world? Girls, girls.
Strong enough to bear the children then get back to business.
Can't argue with that.
I'd be flipping between radio stations on long drives and pause when I heard Single Ladies, who among us hasn't?
I'd wiggle in my car seat and sing off key before hitting the seek button again.
My sister put Crazy in Love on a mixed CD years ago and I'd do the same little dance instead of skipping over it. I didn't skip over anything on that disc, it's like my sister knows me, guilty pleasures and all.
That is all Beyoncé was to me for the longest time, a guilty pleasure not often indulged, but enjoyed in the fleeting moments I had with her.
Then three things happened.
The Biebs came out with a really good album and forced my perspective to change a bit.
He just made my ears so happy. (…trust me, do you trust me?)
I subsequently dropped the guilty part to my pleasure.
I was on my knees when nobody else was prayin'.
I was.
I moved in with Panda and was subjected to more top 40 music than I had bothered to listen to in almost my whole 40 years on the planet. I got a little choked up when Belly said 'you call her a stripper that's my ballerina…' that was Black 19's song for me.
And
Of course
Lemonade.
Flawless
I was late to the party. Super late.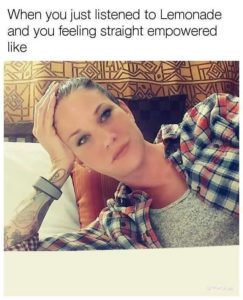 Amongst my memories on Facebook yesterday was an SNL skit about white people losing their shit after Formation dropped, they realized Beyoncé was black and rioted. I found it funny without understanding the reason for it exactly.
https://www.facebook.com/snl/videos/10153910062511303/?pnref=story
7 months later I was leaving a mediocre tinder date a few towns over. He was still really sad about ex and what could have been a nice date became a therapy session and a walk on the beach with a belly full of tacos. I started the car and lo what to my wandering ears should appear? Sorry.
Unlike the Biebs, Beyoncé ain't sorry. No no hell nah.
I too was caught up on an ex. He left me for Becky with the good hair, and to this day he still only want me when I'm not there.
I tried to change, closed my mouth more, tried to be soft, prettier, less awake (Warsan Shire)
From February on I hurt and I couldn't find the magic words to stop it.
They were in a place I didn't think to look…
I sat in that parking lot and the strength of that woman flowed through my shitty speakers and I felt better.
I have no shame in admitting (and I know I'm not alone here) Queen Bey helped me through.
Her anger was my anger.
I too had been betrayed.
Me and my most bomb pussy
Ashes to ashes, dust to side chicks.
Break out the red wine and crank the Lemonade album every time I felt myself faltering. The Warsan Shire spoken word. The incredible videos. All shot in NOLA, I recognized places and things that brought me joy. 72 hours spent in that city, soaking up magic, eating good food and being held by a beautiful boy.
HER GOD WAS LISTENING
Her heaven will be a love without betrayal
I played that song over and over. I started to believe this was possible.
7 months later Panda planned an anti-Valentine's day party that just happened to coincide with the Grammy's. I haven't watched them since I ran away from home at 15. I watched 3 women slay Lady Gaga holding her own with Metallica, Adele being unapologetically human and Beyoncé emulating some sun god fertility goddess hybrid.
There is a curse that will be broken,
One thousand girls raise their arms,
Now that reconciliation is possible,
If we are going to heal,
LET IT BE GLORIOUS.
Her performance was incredible. She really does channel some ancient goddess from a time when women were worshipped.
We will be again.
When we are all dust the bards will tell tales of her, how she became queen in a land without a monarchy because of raw talent and her ability to raise women up…up…higher…there you go.
I understand the Queen moniker now.
Adele said 'you made it alright for me and my friends to feel what we were feeling.'
I heard every song off this album in the order I needed to hear it.
I healed. I had to. Her words are magic.
As I was scouring YouTube this morning to write this, I saw a thumbnail for a video I hadn't noticed before. All Night.
…the alchemist
you spun gold out of this hard life
conjured beauty
from things left behind
found healing
where
it
did
not
live
discovered the antidote
in your own kitchen
broke the curse
with your own
two
hands
So we're gonna heal, we're gonna start again.
Let the woman in doubt disappear.