Sarah?
Yes darling.
You get this look in your eyes sometimes when you are looking at me.
Like what?
Like, um, like you want to eat me.
(I smiled, bit his neck before whispering in his ear…)
Oh honey, it's because I do.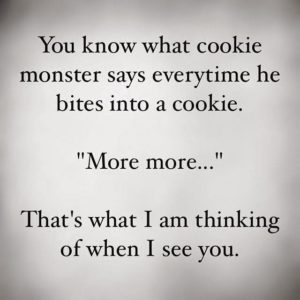 Biker Body Pillow pointed out recently that I have a thing for boys with purdy mouths.
Oh honey, it's because I do.
He has an amazing, next level grasp of the obvious. He takes my words, my moods and adds them to my patterns, subtracts the optimism and tells me what I need to hear, bless him. This comment served to remind me of times where I've made similar exclamations.
I've joked about wanting to build a summer home in Matt Damon's mouth, somewhere tucked in the back of his left cheek. He has such a beautiful smile, changes his whole face into something ethereal.
I think BBP has noted this because Once upon a Gelfling…
Jesus wept that boy had lips to die for.
Trouty-pouty mouth. Sadly home to a tongue dripping with honey-coated lies. I ate those up too, who wouldn't? I'd have sucked poison from his bottom lip quite gladly. In retrospect I think I did. But I didn't die.
BBP was the antidote to my lovesickness then, and is Gelfling's boss now, wouldn't have met him otherwise.
So there is that then.
The opening paragraph is about neither of them.
Just one more jaunt into the past and I will bring it back around.
Once upon the 90's I had a fucked up semblance of a relationship. My coping album was Holly MacNarland 'Stuff'.
It contained such lyrics as …
Maybe I'm a coward, but I'm only scared of you. (Coward)
Didn't mean to close the door, oh my personal whore. (Elmo)
Wake up dead man, can't you see I'm starving. (Numb)
Summed the relationship up nicely. It wasn't very nice.
She had another song on that album.
Porno Mouth
He's got a porno mouth, got a porno grin
All the sighs.
Told you we'd get back here.
I have a very hard time keeping my hands/mouth to myself with this one.
Oh god that porno grin.
I am a writer, a dealer of words, a master of descriptions, I can transport you to where I am and have you join me in your mind's eye, but for the life of me I cannot adequately describe what it is like to watch this boy smile.
Except to say it looks like summer feels, full of opportunity and warmth. It looks like the perfect arcs of sacred geometry and feels like the afterglow of an orgasm.
'I tasted him and realize I'm starving.'
I'm ravenous. Ima sex-eater after all and pickings have been markedly slim.
Truth be told, I wasn't looking to harvest.
I was fasting again, to get closer to god, but he wasn't paying attention to my piousness.
Just like anyone with hypoglycemia I don't notice I am crashing till I'm almost on the ground.
Hits me harder in the winter, my sun-eating and the prolific amounts of sex I tend to have in the summer keeps me floating.
But its winter now and I am hungry.
"For every kiss your beauty trumped my doubt." Mumford and Sons
I watch this one almost obsessively and he knows it. I stare at his profile and watch the perfection of the curvature where his lips meet his cheeks. I feel like I'm being creepy, but he doesn't seem to mind. When he catches me that grin gets maddeningly wider and impossibly more delicious. I am fixated and fascinated by the way he corners of his mouth pull away just so and expose the most perfect, sharp white teeth. All the better to bite me with. His wit matches his teeth. The words that roll of his tongue are akin to the petal soft bow of his lips…sweet and soft with a certain wickedness, strength and gentleness contained within.
I was talking to my girl the other day. She doesn't like the way her boy kisses her, says it's all pecks and nibbles, she wants to be consumed.
Not me, what she described sounds like bliss, when you can feel someone smiling while they kiss you, the hummingbird dance, hovering, lingering, then darting away just to come right back for more. Tasting, touching and teasing. The time for consuming comes and I let it.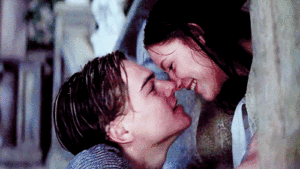 We are star-crossed methinks. I cannot stake claim here and build anything, not even a summer home in the spaces between when we kiss. I will nibble and consume until I can't anymore.
S'okay, for now I am sated.