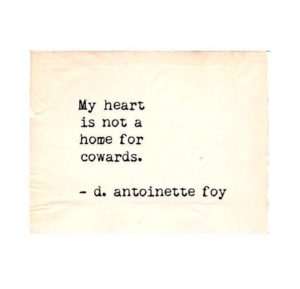 Oh forfucksakes, goddammit.
It actually is.
Now what?
Can I evict them? Do they have somewhere to go? Will someone else look after them? Do they know how to get back if I let them out into the world? I gave them sandwiches, perhaps they will think to leave a trail of breadcrumbs. Or more likely the will just get lost and stay there. Lost boys get lost. Its what they do.
Not hard to understand why they moved in huh? I am getting nothing from this and they still get my genuine concern, somewhat divided attention and some love.
It is as though they know my heart is a church and if they knock and cry Sanctuary, I gotta let em in, and they can stay, indefinitely.
I am not saying they are all cowards, these people I keep in my heart.
But if the running shoe fits…
Gelfling bolted saying he couldn't give me what I wanted even though he never did ask me what that was (very little for the record).
Young Un the first didn't want to be in a relationship until a month after he left me and then he tripped over untied shoelaces and fell into a relationship.
The Poet was so afraid he ran back to his castle too.
So if the meme fits…write an article about it.
Giant came over to hang a chandelier, it's still not up. He got shocked twice and we were missing a piece. We were missing lots of proverbial pieces but he keeps leaving them here one by one. As well as other assorted odds and tangible ends. I giggled the other day when I found his volt meter. Said "it's cute that we keep leaving bits of ourselves at the other's house. I don't think we can sever our invisible thread but it's nice to have something to hold onto." He agreed. The bigger picture is getting clearer and clearer. Knots in the thread not withstanding.
We also had a good giggle about him calling himself Safety Joe.
He's not a coward, he is Safety Joe.
One more puzzle piece.
A stranger with your door key explaining that I am just visiting. And I am finally seeing. Why I was the one worth leaving.
~The District Sleeps Alone Tonight, Postal Service
We talk, it's what we do. Over vodka tonics this time instead of beer. It's usually me babbling a little more. Reiterating things that I've written or Eurekas from therapy or venting about dates gone wrong. But when he talks I listen.
I was rubbing the knots from his back and asked him if he had ever been in love before. He said yes. He met a girl at 13 and dated her from 17 to 22 and then they broke up.
Of course I asked why. I like to untangle things.
He said
"I didn't want to be in love in my early 20's."
Mmm, what you say?
That you only meant well? Well, of course you did
What you say?
That it's all for the best? Because it is
What you say?
That it's just what we need? And you decided this?
What you say?
(WAIT …)
WHAT DID YOU SAY?
Ransom notes keep falling out your mouth
Mid-sweet talk, newspaper word cut-outs
Speak no fear, no I don't believe you…
(Imogen Heap, Hide & Seek) very funny.
You decided this? How in the ever-loving-fuck does one wake up one morning and just decide this?
Can you teach me?
I too fell in love at 13. I couldn't find the breaker. Finally did.
He does speak in ransom notes and newspaper word cut outs. Pretends he doesn't fear, but he does.
I asked him that too. If he was scared of me, he said yes.
"But you love me, don't you."
He said "yes, I do."
And herein lies the epiphany/eureka that illuminated the room in place of the chandelier with the missing piece.
I sent him this the day before he came over.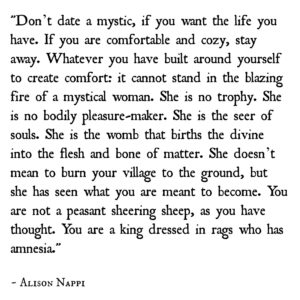 I don't think I am all that, but maybe that is what he sees. I am more like this…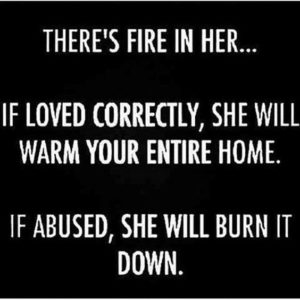 He has no idea what I see in him. Tells me again and again how plain he is.
Average Joe, Safety Joe, "I'm just some guy".
His reality is that I could see his truth at any moment and burn it all to the ground like the mystic he believes me to be.
So it is safer for him to hide from me behind her and her behind me.
I've done that, it's called a rousing game of Human Shield.
He cannot possibly fall in love with either one of us if the other exists and takes up space in his life/heart/home.
But not too much space.
Hes too pragmatic for that.
He loves his cozy little life, as he should, he built it with his own two giant hands.
He IS a King dressed in rags who has amnesia. Of this I have no doubt.
I doubted everything else, but I always somehow knew that he loved me, he made it very plain that he wanted me, that was not hard to decipher, that wasn't a secret.
What I didn't understand is how he could love me/want me and not be with me.
Easy…
He made a choice. Not to fall in love.
Interesting use of a superpower. To plan your life out to the point that you can put a leash on your heart and tell it where to go.
15 days he leaves his early twenties.
I wonder what he has planned for himself then?
I could just ask him, I know he would tell me the truth, he is good like that. I think I already know.
Every prophet in her house, and he in his.
He has said many times that I will wander. I won't stay.
He has made it near impossible for me to do so, maybe he is a prophet.
A self-fulfilling prophet.
I've done that. They're going to leave so I am going to make sure of it.
I have memorized the lessons for loving a prophet* as well, someone has to, poor dears.
He speaks like one, like me. Creates reality with his thoughts and words.
The last prophecy I foretold was that one day soon I am going to figure him out and I am going to feel markedly better. That was 10 days ago.
Now if I can just get that chandelier up so I can have some actual/tangible illumination…but of course the missing piece is in a drawer in his house, he has been hanging onto it for a year, waiting to see where it fit.
*