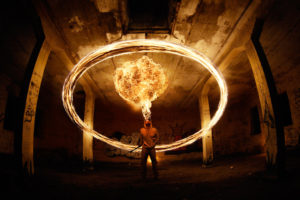 The neighbors are fighting again.
At least she is fighting back this time. She sounds like a different woman when she sticks up for herself.
It's not going to last long, she is going to crumble, I give it 15 minutes.
I have heard their soundtrack before, played it too.
I relocated to a bigger apartment in the same building and now I have front row, balcony seats.
It hurts me.
Mostly it's him calling her names and smashing shit and then this shrill wail, like a banshee comes out of her mouth.
It is echoes of my own.
I used to be her.
I dated a him.
And another him with another face, and probably a few more.
I want to reach out and down from my balcony and pull her up to mine. Show her what it looks like when women make it on their own. How nice it can be, how clean and quiet. How we laugh. How we swap stories saying 'yes honey, I've been there too' over coffee.
One of my best girlfriends is in the shit right now.
She said "I know you are getting sick of me."
I replied "I got 9+ years of being in those relationships, my patience for you is nowhere near ending. However, please don't take that long."
It seems to be some rite of passage. Like some phoenix from the ash bullshit but the fire has fists and a drinking problem.
And what happens if you don't rise? You have to pack so much ice around you, you freeze to death.
Mental abuse is still abuse and she has suffered with the rest of us.
And she is in it again.
Different man, different face, different way of cheating on her.
He is an addict and his mistress is drugs.
"But he has demons"
Honey we all do, he just chooses to feed his.
He would rather risk another psychotic break than stay clean.
The core 4 friends I have are all strippers, or were until recently. Myself included. We've all seen drugs change people we knew and loved into strangers and we have all watched as years have gone by and somehow some of them stay intact.
There is a spectrum. On one end is the unfortunate kid that smokes one crack rock and dies of a heart attack at age 16 and there is Keith Richards. Everyone else falls somewhere in between.
I have watched people succumb to cocaine psychosis and it made me quit. I didn't love myself but I didn't want to give myself a chemical lobotomy either.
I have watched girls end up on the street from bad boyfriends and bad drugs. Took a few into my house and gave them a shot at getting clean. They took it.
I wish we had some kind of hive mind collective we could tap into, project our experiences into the minds of our friends. So they could feel what we felt, the fear, the knuckle that left me with a scar on my lip. The warm arms of those who loved me taking care of me and now…the men who defend me, protect me, love me, take up arms against those who even look at me the wrong way.
The ones that love to watch me belly laugh and squeal, not scream. The ones I can melt into because I trust them.
They are what is waiting on the other side of that firewalk.
This is the "warmth that can only come from a burning". (SK)
I know you are tired, but come, this is the way. Rumi
The neighbors got evicted, too many noise complaints. I hear him blaming her for it and my eyes roll so bad they get stuck and my blood boils. But that is the way it is, I can see it from one floor up and across the way, she is in it and can't see what he is. I wish she would just realize he ain't nothing but a wet paper bag and fight her way out.
I don't know how old the neighbor is 25-30 if I had to guess, the years haven't been too hard or too kind, she wears her sadness like a mask that only the rest of us who have shed one just like it can see. The fake smile that never reaches her eyes that dart in fear lest she get caught talking to me.
I am the enemy. I am a walking example of what she could be if she left him.
And I called the cops on him one night when I heard the sickening sounds of a well landed punch and the air leaving her body for a minute. Nothing happened, cops came and left, she stayed. I'll call them again.
I'll go get my girl again and bring her somewhere safe. My house is safe, we built it that way.
My Sunshine went through some shit too, an addict witnessed the whole thing left her to get beat. So I rolled up with my kid and a baseball bat. Still regret not running that waste of skin down with my car.
I will do it again for anyone in harm's way.
I escaped death by the kindness of strangers and the patience of friends.
Someone has to help. I am someone.