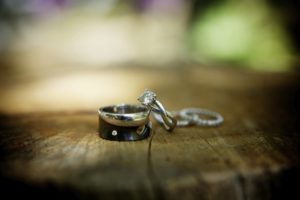 Him: "We're just waiting for Sarah's family to arrive"
Me: (oh Jesus no)
Random wedding guest: "Who?"
Him: "Sarah's parents"
Me: "Sean, what did you just say?"
Him: (one more time for the kids in the back) "Sarah's parents aren't here yet."
Me: "No Sean, I'm Sarah, you are marrying Erin remember?"
Him: "Oh, ya. Erin's parents. Sorry."
Coulda stabbed him in the heart with his boutonniere pin.
Coulda woulda shoulda.
He wasn't sorry enough to stop himself from doing it twice more.
Not during the ceremony though, small mercies.
I had enough before the sun went down and bailed. I should never have gone.
Don't go to your exes weddings mmmm kay?
Even if they INSIST, just don't go, chop a limb off if you have to but just don't go.
I've been to a few weddings.
Twice as a flower girl, those marriages are still going after 30+ years.
The next marriage ended eventually.
The first one I went to wherein I was a friend of the bride…she'd pulled me into the bathroom a week before and said "I don't want to do this."
"You don't have to, you can stop this, it'll be okay." I said.
She didn't stop it, she left him 3 months later.
I've never been a bridesmaid nor a bride.
Went to 2 weddings last year, both beautiful and wonderful.
I went to both alone and left feeling really alone.
Been engaged a handful of times. If that hand had closed around a firecracker after lighting it and was missing a digit, which is kinda a metaphor for said relationships, dummy me didn't know when to let go.
I didn't keep the rings.
The kind of man I want works with his hands and couldn't wear a ring anyways.
There is a scene in Four Weddings and a Funeral wherein Duckface is speaking to Hugh Grant and says something to the effect of "You don't have to enter every relationship thinking 'I must get married', but you can't be in them thinking I mustn't get married either."
I was Hugh Grant. Until recently.
My dad looked at my mom and said 'that's the girl I am going to marry', and he did.
His parents met as teenagers, before the war. When he came back his family actually hid my grandpa from my grandmother saying "once Neva knows he's home we'll never see him again." That lasted a week, and proved to be true. They loved each other so much. So do my folks.
I met my "one I want to marry" when I was 13 years old. For 26 years I didn't want to marry anyone except him.
Yes, I agreed to marry 3 other people, but somehow I knew it was bullshit and that it wasn't going to happen and it seemed rude to say no so…
Anthony proposed three times between 2006 and 2011, told sisterwife he had to because I found the ring in his pocket when I was gathering laundry. Not sure how explained asking me twice more after that, not sure I care.
Survey says, whatev's.
It was because of the Black Wedding of Sean and Erin that I came to find out how I had been ousted from my farm life years prior.
I was sleeping with Sean you see, back in the days of being engaged and enraged with Anthony and our sisterwife.
Sean's best friend told Anthony where I had been spending my nights.
Sean made sure Anthony found out so I would get thrown out and go back to him.
That same friend made sure Anthony found out I was at the wedding too.
Ew.
None of them loved, honored nor cherished me. And they did not forsake any others and want only me, so again whatev's.
Made me feel like shit though. Probably the worst I had ever felt. To be betrayed like that under the guise of being loved. To be forced from my home, as shitty as it was, before I was ready to go.
I think that is part of the reason I value the free will of others so much. I know what force feels like, to be cornered, abandoned, manipulated, used and tossed away with no choice in the situation other than whatever notion brought me there is the first place.
Bob Marley said there is no bigger coward than a man who awakens the love in a woman with no intention of loving her back.
On this, and most things, Bob and I are in utter agreeance.
Whatever they awoke in me felt like love, until it didn't.
"Her heaven will be a love without betrayal" (Beyonce)
Yes, this.
The night I met the Giant I read his palm in the blacklight. Saw him getting married, focused on his career, can't remember much else, but he is going to have one serious accident or illness and smooth sailing from there.
I joked that he wasn't the one for me because I was never getting married.
I've never been that little girl who plotted, planned and schemed about her wedding day. I just didn't. My parents eloped. I was 6 when Charles and Di got married, watched some of it on TV. Looked like a long expensive mess to me.
I still see it as sacred. I still want to be chosen by someone that I love, who loves me and stays.
It hurt me that the Giant thought me a joke really. He said he would stay and was gone in a week.
Just because I don't have my head full of flowers and rings and white dresses doesn't mean the idea of loving someone for a really long time doesn't appeal to me. It is in my DNA after all, this forsaking of all others. I was just handshy for all of the reasons listed above.
The end of Four Weddings and a Funeral is Hugh Grant saying to Andie McDowell, would you agree to not marry me and stay not married to me for a really long time.
I like that ending.
I do.