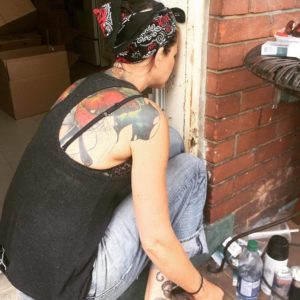 So, um. Catharsis is good. Rolling with shit is good.
Having those things thrust and forced upon you while in the middle of moving.
No Bueno.
Keep on rollin' baby.
11:30am… turn the key to the new place and it's brown.
Like that coffee you left in your car for a week and opened for some weird reason just to look. And ew.
Add to that the bubbling/patchy mess and I sent a strongly worded email to my landlords.
To which I got no response other than two strange men in the new house telling me I was to remain in my unit until they said so. To which I replied 'get out of my house.'
Add to that an unannounced viewing of my old unit and times that by 2.
Add to that the fact that we hadn't seen the place since May and looked at a lot of places and in the way that memories go, they got jumbled and tangled and there was a moment of 'is this the place we looked at?' where in god's name am I going to put anything at all?
I threw out a lot of shit, let a lot of things go…felt really good about it. Wrapped the remainder carefully in liquor boxes and newspaper. Then one slip over one lip between two rooms and things got smashy smashed.
I cried. I admit it.
More things are going to have to go.
Maybe I need this to attain enlightenment.
Magic 8 ball says 'yesh'. Universe concurs.
I had delusions of standing in the new place directing box traffic. Saying things like 'kitchen, bathroom, my room, office'. Thought mayhap I would be able to sleep in the new place last night.
Big bag of nope.
I have moved 42 times and I vaguely remember one move going this bad, maybe. My brain has deleted that file as I hope this one gets erased one day.
Except I'm archiving it here.
With purpose.
I woke up this morning in my bed that never made it over to the new place, feeling better. My week is not going the way I wanted it to. I'm missing 3 more days of work which puts my total at 10.
I have played the 'coulda woulda shoulda' game and no one wins. It just steals more time that apparently I have no control over and is a precious commodity.
My friend/mens have been awesome, supportive and sweet as fuck. Mostly.
The new place is currently being painted a beautiful soft dovey grey and the movers come to do part two on Monday. So we have time to go over and sort after the paint dries before they come back and I can fulfill my dream of standing in the middle of my new life directing traffic.
I have a dedicated office now so when I do get back to work, I will be working.
I know myself. I know I am a hermit and having my life unsettled and straddling homes and all that other shit that some people can do with ease, I cannot. But I am learning.
Things weren't quite right in the time called before.
I needed a shake up out of my old routine and into a new…
Pretty excited about a new life.
But not until I know where my pants are.