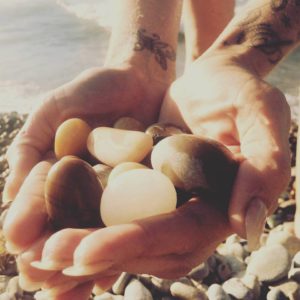 Driving home I could still hear the waves crashing in my head. I still can now actually. My lake was in fine, angry exhibition this time home. I felt proud, oddly. Standing in front of her, introducing my girls. Have you met the undertow? Do you know what to do if she catches you?
I call Lake Huron my lake, but really I am hers. She soothes me, soaks my sins away, batters me with waves until my soul comes out clean. And I don't know what she does to my hair, but damn. I didn't want to/have to wash it for days after I've been in.
I don't have a God per say. I have a moral compass of my own. I do what feels good and light and right.
We 4 girls spoke on the way home about religion and its purpose. Sacrificing virgins came up. I said "well this one time somebody killed a girl and it rained the next day, so they kept doing it for 1000's of years." And sometimes the rains came shortly after, because of weather patterns, not virgins.
That's what it felt like in the lake that night. God's marionettes. Tossed and tumbled. Thrown out, knocked over all the while blissed out beyond words. With moments of fear.
She deserves respect.
"The path of the righteous man is beset on all sides by the iniquities of the selfish and the tyranny of evil men. Blessed is he, who in the name of charity and good will, shepherds the weak through the valley of darkness, for he is truly his brother's keeper and the finder of lost children. And I will strike down upon thee with great vengeance and furious anger those who would attempt to poison and destroy my brothers. And you will know my name is the Lord when I lay my vengeance upon thee." Ezekiel 25:17
The line I was going for when I looked that up was 'you will know my name is the Lord' spoken in Samuel L Jackson's specific cadence.
Lake isn't evil, she might be God, or the closest thing I have to it. I crave her when I am lost, think of her often, bring home rocks, set up little altars, palm them when I am stressed out. I hear her echoes in my ears when I am homesick. I love her on the days I am up to my ribs and it's so clear I can see my toes and I revere her on the days that she rages and churns.
I think she is just trying to wash us clean. Like when 6 of us went in naked, played and fought waves, riptide and undertow and laughed with delight. We all made it out, but there were a few waves, ocean sized, that had me sucked under talking myself out of that panic that will kill you. Ass over teakettle into the dark oblivion, no air, no idea which way was up. Then finding my feet, standing in awe and humbled as I coughed, sputtered and spit water back where it came from.
I am grateful for the reminder that she can get in anywhere she pleases. That water is relentless, changes shape, form, and eventually washes everything away.
I am water, I am her daughter, I can do the same.